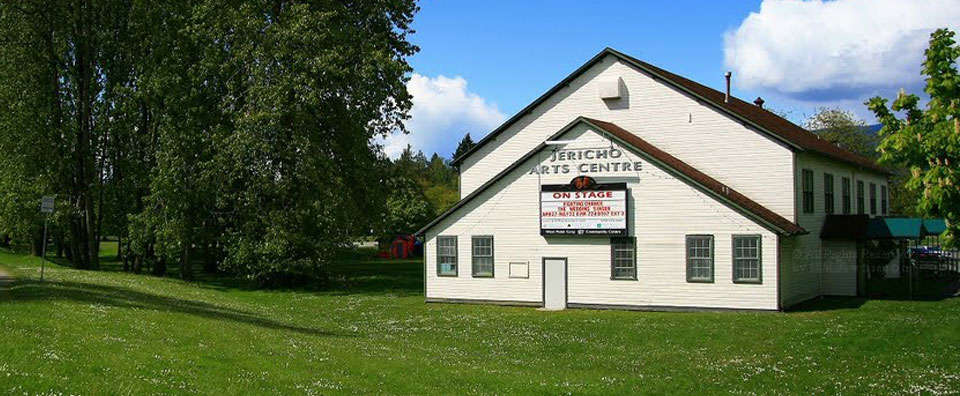 Jericho Arts Centre (JAC) is a 135-seat performance venue located off NW Marine Drive near Jericho Beach in the heart of Vancouver's West Side.
It is operated by the Friends of Jericho Arts Centre Society (FoJACS), a non- profit society made up of the users and volunteers who work on JAC. FoJACS leases JAC from the Vancouver Board of Parks and Recreation.
United Players of Vancouver is the Resident Theatre Company and JAC hosts many visiting Guest Companies as well. Performance time not assigned to a performing company is made available to the community by application.
Visual artists are also invited to display their work in the lobby.
To receive regular updates on news and events join our mailing list!
Our Mission
The Jericho Arts Centre was commissioned by the Parks Board 1993. Our purpose is:
To establish and maintain an arts centre for the visual and performing arts, accessible to the local community.
To provide and maintain a space for performance, rehearsal, set construction and offices.
To promote interest in the performing arts through the production of plays and other performing entertainments.
To provide education, experience and mentoring in order to develop and enhance the skills of performing artists and companies for the future.
To provide opportunities for community volunteers to help with the activities of the arts centre.
To provide a venue for the development of new plays and performances by members of the community.
To provide a home for a resident theatre company, United Players' annual season of plays.
To make a venue available to guest companies and annually returning performing groups.
To develop a collaboration between the community centre and arts groups.
To foster public interest in a range of artistic disciplines.
To maintain for the next generation of artists and audiences the traditions of the theatrical performance.
To collect fees through sale of tickets, food concession, grants and fundraising in order to fund our mandate.